UK | US This year Agriton Group The Netherlands and its subsidiaries celebrate the 25th anniversary of EM® Effective Micro-organisms in Europe. Unfortunately, our planned EMRO's European Partner Meeting – with the theme of the future of EM® – has been postponed to next year due to the corona crisis. Nevertheless 2020 is a special anniversary year for us – from 1995 to 2020 the rise and success of EM®! We would like to celebrate this together with you and we would like to thank you for your enthusiastic purchase of our products in recent years. We hope to present our ideas, researches and products with great enthusiasm again over the next 25 years and we would like to invite you on this innovative, future journey! Visit agriton.nl/25years/ (in Dutch) for a glimpse into our history. And please meet our daughters here below. It gives a nice picture of how many European countries are now working with EM®.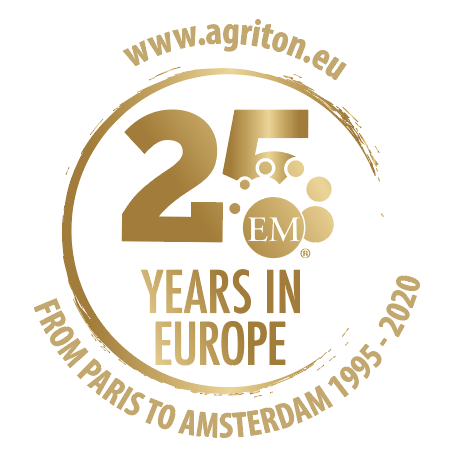 NL | Dit jaar vieren Agriton Group The Netherlands en haar dochterondernemingen het 25-jarig jubileum van EM® Effective Micro-organismen in Europa. Helaas is onze geplande EMRO's European Partner Meeting – met als thema de toekomst van EM® – uitgesteld tot volgend jaar vanwege de coronacrisis. Toch is 2020 een bijzonder jubileumjaar voor ons – van 1995 tot 2020 de opkomst en het succes van EM®! Dit vieren wij graag samen met u en danken wij u voor uw enthousiaste aanschaf van onze producten de afgelopen jaren. We hopen onze ideeën, onderzoeken en producten de komende 25 jaar weer met veel enthousiasme te presenteren en nodigen u graag uit op deze innovatieve, toekomstige reis! Bezoek agriton.nl/25years/ voor een kijkje in onze geschiedenis. En maak alsjeblieft kennis met onze dochters hieronder. Het geeft een mooi beeld van hoeveel Europese landen er nu met EM® werken.
Finland
Sweden
Norway
Denmark
United Kingdom
Belgium
France
Turkey
Visit agritongroup.com.
Bezoek ook agritongroup.com.